Huh? What?
Who am I? Why this Blog?

I'm Dr. Jonathan L. Kramer.

In August 2016 I completed my Doctor of Law and Policy (LP.D) degree at Northeastern University in Boston. I received my doctoral hood in September 2016. I was a member in the 8th Cohort of that unique program.

I set up this blog at the suggestion of one of the LP.D program leaders whom I truly respect, Professor Neenah Estrella-Luna, Ph.D. Early in the LP.D program she strongly recommended that each Cohort member track their progress and stand up to the scrutiny of peers, just as we do when we publish or present papers.

I took Professor Estrella-Luna's suggestion to heart, and this blog allowed me to chart my personal journey from a highly-educated lawyer and masters-level blob to highly-educated lawyer and doctoral-level researcher blob.

At least that was my initial goal…

In real life, I'm a practicing telecom law attorney licensed in California and New Mexico, as well as a radio frequency engineer. My law firm has five attorneys, four staff, and two dogs working in offices in Los Angeles, San Diego, Seattle, and in our covert office on a Southwest Airlines jet (minus the dogs).

I have earned the following academic degrees:

Associate of Science (AS) degree (honors) Los Angeles Trade Tech College. Los Angeles, California.

Juris Doctor (JD) degree (cum laude) Abraham Lincoln University School of Law. Los Angeles, California.

Masters of Law (LL.M) degree (with distinction) Strathclyde University. Glasgow, Scotland.

Doctor of Law and Policy (LP.D) Northeastern University. Boston, Massachusetts.

Having completed my Doctor of Law and Policy degree, just for fun I might go after a few more professional licenses.

My current goal is to become licensed as a Real Estate Broker in California. Done that!

Who knows?
Accountability
I am personally accountable for my education and the work I put in to that education. Because of that, I've decided to be transparent about my grades, whether good or bad (but better good than bad).

Q1 – Summer 2014:
Law and Legal Reasoning 1
(LWP 6120) Grade: A
Law and Policy Concepts 1
(LWP 6401) Grade: A
Research Methods
(LWP 6424) Grade: A-

Q2 – Fall 2014:
Law and Legal Reasoning 2
(LWP 6121) Grade: A
Law and Policy Concepts 2
(LWP 6402) Grade: A-
Qualitative Methods
(LWP 6423) Grade: A

Q3 – Winter 2015:
Law and Legal Reasoning 3
(LWP 6122) Grade: A
Law and Policy Concepts 3
(LWP 6403) Grade: A
Quantitative Methods
(LWP 6420) Grade: A

Q4 – Spring 2015:
Law and Legal Reasoning 4
(LWP 6123) Grade: A
Evaluation Research
(LWP 6404) Grade: A
Economics for Policy Analysis
(LAW 6410) Grade: A-

Q5 – Summer 2015:
Methods & Theory Appl Research
(LWP6425) Grade: A
Political/Moral/Ethical Dilemmas
(LWP6431) Grade: A
Doctoral Research Design 1
(LWP6500) Grade: A

Q6 – Fall 2015:
Public Policy Theory & Practice 1
(LWP6450) Grade: A
Doctoral Research Design 2
(LWP 6501) Grade: A

Q7 – Winter 2016:
Public Policy Theory & Practice 2
(LWP6451) Grade: A
Doctoral Research Design 3
(LWP 6502) Grade: A

Q8 – Spring 2016:
Public Policy Theory & Practice 3
(LWP6452) Grade: A
Doctoral Research Design 4
(LWP 6503) Grade: A

July 2016: My final GPA after all program coursework is 3.958 on a 4 point scale. I can live with that.
Today, after 24 intensive weeks spanning two years, my Cohort and I completed all required in-person classwork in Boston (well, 22 months in Boston, and two more months in Washington, D.C.) for the Doctor of Law and Policy degree at Northeastern University.
I have to finish my thesis by July 30th-ish so I can defend it on August 30th.
I have come to truly enjoy being in the company of the other 14 surviving members of Cohort 8. We started a couple of years ago with 24, and I am sorry they did not end up making the journey with the rest of us.
As of now, 9 members of Cohort 8 have successfully defended their theses. Most of the rest will defend in the next two weeks. I suspect I'll be the last one.
I've very proud of what we have all accomplished, and looking forward to seeing what they will accomplish when they are conferred their degrees on September 22, followed by the hooding six day later.
I see the light at the end of the tunnel. I am stronger than the train.
jlk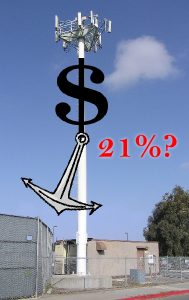 It's always an amusing surprise to me when I see Dr. Sandy Bond's 2007 research on cell towers and property values quoted in public hearings.  It happened again a few days ago during a hearing in which I participated, when a resident told the government leaders that cell towers lower property values by 21% (not 20%; not 22%, but 21%).
Here's the citation to Bond's 2007 report in case you'd like to read the source materials (most people don't):
Sandy Bond (2007) Cell Phone Tower Proximity Impacts on House Prices: A New Zealand Case Study, Pacific Rim Property Research Journal, 13:1, 63-91, DOI:10.1080/14445921.2007.11104223
I find it fascinating that the people who cite the number have no idea about what's in the report, or that Dr. Bond's research methodology has been roundly criticized by Filippova and Rehm (2011).
Here's the cite to Filipova and Rehm's research strongly challenging Bond's 2007 research:
Filippova, O. and Rehm, M. (2011), "The impact of proximity to cell phone towers on residential property values", International Journal of Housing Markets and Analysis, Vol. 4 No. 3, pp. 244-267.
Go ahead and read both documents, and then make an informed decision as to whether you would want to be associated with the 21% number.  I certainly don't.
Finally, in about 90 days I'll be publishing my findings on hedonic price modeling to assess the dis-amenity value of a cell site near a home, this time a bit closer to the U.S., specifically in Calabasas, California.  My research discloses that hedonic price modeling–if it ever had a valid place in research–is no longer any sort of useful tool in this line of research for reasons discussed in my thesis that could not have been known to Bond, Filippova, or Rehm, or to the few researchers to who followed down the same rabbit hole.
Living 5G Large, baby!
I've been reviewing about 170 court cases touching on or dealing with perceptions of resident home value reduction due to the installation of a nearby cell site. The court cases, which date back to about 1988, provide some very illuminating facts about what the courts consider to be reliable evidence, and what is not.
The information I've collected is going into my law and policy chapter, which is turning out to be quite interesting.
Sneak peak: Direct references to hedonic price modeling and a Dr. Sandy Bond paper are found in exactly one federal case. The outcome of that case turned on other considerations.
Jonathan