Huh? What?
Who am I? Why this Blog?

I'm Dr. Jonathan L. Kramer.

In August 2016 I completed my Doctor of Law and Policy (LP.D) degree at Northeastern University in Boston. I received my doctoral hood in September 2016. I was a member in the 8th Cohort of that unique program.

I set up this blog at the suggestion of one of the LP.D program leaders whom I truly respect, Professor Neenah Estrella-Luna, Ph.D. Early in the LP.D program she strongly recommended that each Cohort member track their progress and stand up to the scrutiny of peers, just as we do when we publish or present papers.

I took Professor Estrella-Luna's suggestion to heart, and this blog allowed me to chart my personal journey from a highly-educated lawyer and masters-level blob to highly-educated lawyer and doctoral-level researcher blob.

At least that was my initial goal…

In real life, I'm a practicing telecom law attorney licensed in California and New Mexico, as well as a radio frequency engineer. My law firm has six attorneys, two paralegals, and two dogs working in offices in Los Angeles, San Diego, and at our covert office on a Southwest Airlines jet (minus the dogs).

I have earned the following academic degrees:

Associate of Science (AS) degree (honors) Los Angeles Trade Tech College. Los Angeles, California.

Juris Doctor (JD) degree (cum laude) Abraham Lincoln University School of Law. Los Angeles, California.

Masters of Law (LL.M) degree (with distinction) Strathclyde University. Glasgow, Scotland.

Doctor of Law and Policy (LP.D) Northeastern University. Boston, Massachusetts.

Having completed my Doctor of Law and Policy degree, just for fun I might go after a few more professional licenses.

My current goal is to become licensed as a Real Estate Broker in California.

Who knows?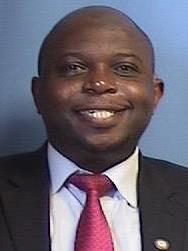 I have the great privilege of being the mentor of Opéoluwa Sotonwa, a member of NEU Doctor of Law and Policy program.  Opé is a member of Cohort X.  He is an advocate for the deaf and hearing impaired in a position that can truly make a difference; an accomplished attorney; a published author; and a particularly thoughtful individual.
I just finished a call with Opé during which he described his own progress through the DLP program, and recent and upcoming events. Frankly, I'm a bit envious of my young squire.
Okay, first some background. The DLP program has never been static.  It has continued to evolve in coursework, presentation, and faculty oversight over the past decade, arguably becoming something better with every passing year.
When I went through the program, which is taught in Boston, we spent two of our cohort "intensives" meetings in Washington D.C.  The D.C. trips focused on visits with law and policy leaders, including a meeting with a U.S. Senator, visits to policy think tanks, a visit to the U.S. Supreme Court, seminars with national and international law and policy leaders, and the like.
Okay, why am I envious of Opé?  Last month, during Cohort X's visit to Washington D.C., they spent one-on-one quality time with Associate Justice Clarence Thomas.  How cool is that!  Reading the opinions then getting to Q&A with the man.  What a highlight!
Coming up last this year–to continue to make me envious of Opé–is the Cohort's planned trip to London, England.  Heck, Cohort VIII never left the east coast, much less the continent.
Okay, I'm really happy for Opé and his mates in Cohort X.  I have got to figure out some way to get invited by the DLP program leaders to lecture in London to the Cohort about international telecommunications policy, which was the subject of my LL.M from Strathclyde University in Glasgow.  Perhaps they just need a chaperone. 
I'm donning my thinking cap right now!
–Jonathan