Huh? What?
Who am I? Why this Blog?

I'm Dr. Jonathan L. Kramer.

In August 2016 I completed my Doctor of Law and Policy (LP.D) degree at Northeastern University in Boston. I received my doctoral hood in September 2016. I was a member in the 8th Cohort of that unique program.

I set up this blog at the suggestion of one of the LP.D program leaders whom I truly respect, Professor Neenah Estrella-Luna, Ph.D. Early in the LP.D program she strongly recommended that each Cohort member track their progress and stand up to the scrutiny of peers, just as we do when we publish or present papers.

I took Professor Estrella-Luna's suggestion to heart, and this blog allowed me to chart my personal journey from a highly-educated lawyer and masters-level blob to highly-educated lawyer and doctoral-level researcher blob.

At least that was my initial goal…

In real life, I'm a practicing telecom law attorney licensed in California and New Mexico, as well as a radio frequency engineer. My law firm has six attorneys, two paralegals, and two dogs working in offices in Los Angeles, San Diego, and at our covert office on a Southwest Airlines jet (minus the dogs).

I have earned the following academic degrees:

Associate of Science (AS) degree (honors) Los Angeles Trade Tech College. Los Angeles, California.

Juris Doctor (JD) degree (cum laude) Abraham Lincoln University School of Law. Los Angeles, California.

Masters of Law (LL.M) degree (with distinction) Strathclyde University. Glasgow, Scotland.

Doctor of Law and Policy (LP.D) Northeastern University. Boston, Massachusetts.

Having completed my Doctor of Law and Policy degree, just for fun I might go after a few more professional licenses.

My current goal is to become licensed as a Real Estate Broker in California.

Who knows?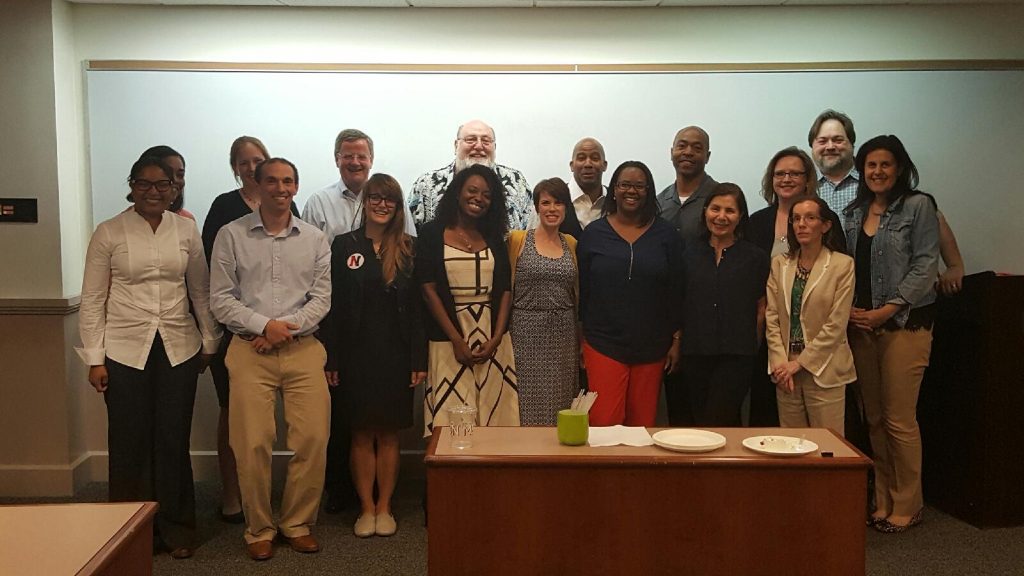 Cohort 8, Professors, and Key Program Staff. June, 2016.
About 15 minutes ago the last quarter of Cohort 8's Doctor of Law and Policy program at Northeastern University in Boston came to an end.  All of the classwork is complete.  Grades for the last quarter will come out in about 36 hours, not that the really matters now (well, maybe a little bit).
My thesis is coming along splendidly.  Still on track to now complete it by July 30th, and defend it on August 30th.
I've enjoyed the time I've spent with the members of Cohort, all of whom have become very close and important friends over the past two years.  We shared in a common journey and struggle, helping each other and thereby helping ourselves.
Over the course of studies, we've been gladdened by a marriage, a birth, various job changes, and a retirement.  We have also been saddened by the loss of extended family members, serious injuries, kidney stones, and cancer.
Cohort 8 has become its own family, with our key professors, Neenah Estrella-Luna and Dan Urman sometimes acting in loco parentis.  James Passanisi has been our kindly uncle for the past two years, working to make sure that we didn't stray too far from the center, and properly scolding us a few times when we did.  David, and Wendy (a.k.a., Taz), have been our co-schemers and co-pranksters.
I look forward to seeing all of my family and our professors when we reconvene in September to be hooded as Doctors of Law and Policy.
I consider myself immensely lucky to have landed a spot in Cohort 8 of Northeastern University's Doctor of Law and Policy program, and to be with such magnificent, intelligent, passionate and caring people.
Jonathan